Stitching
In this section of The Clinic we do small sewing repairs right the way through to adding new pockets and even creating brand new linings for your handbag.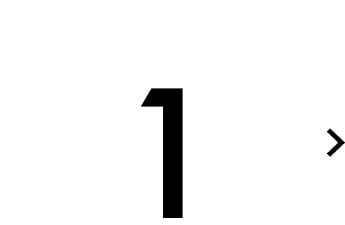 Get a quick quote
Submit our Online Form and get a quick estimate to restore your bag to its former glory.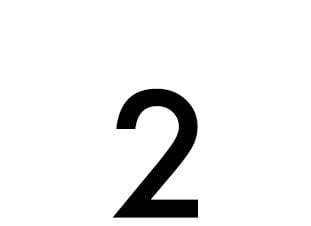 Courier the item to us free of charge
Use our convenient free label or book a collection with team today.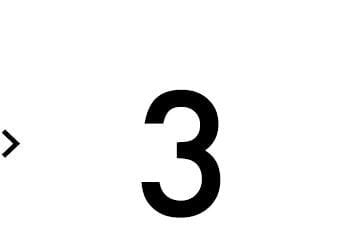 We do the rest
We'll expertly clean and restore your bag, getting it back to you in no time.
Stitching Repairs: Hand Stitching and fixing thread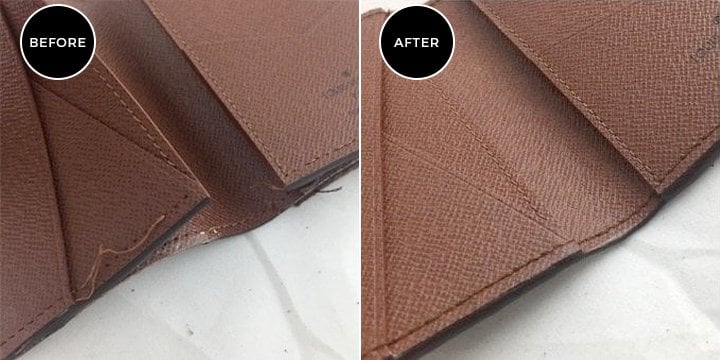 Loose Stitching & Thread
We have hundreds of colours and thickness of threads to match all handbags.
Some of the stitching repairs we do can be as simple as just adding a few extra threads where the stitching has come loose through to completely re-stitching handles, straps, linings and all other parts on handbags.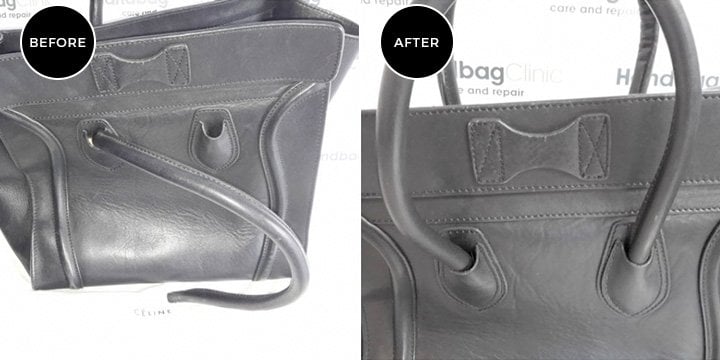 Loose Leather Pieces
Sometimes stitching will come loose or break causing leather tabs and decorative pieces to come loose from the bag.
We select a thread that matches and will re-stitch the piece back onto the bag.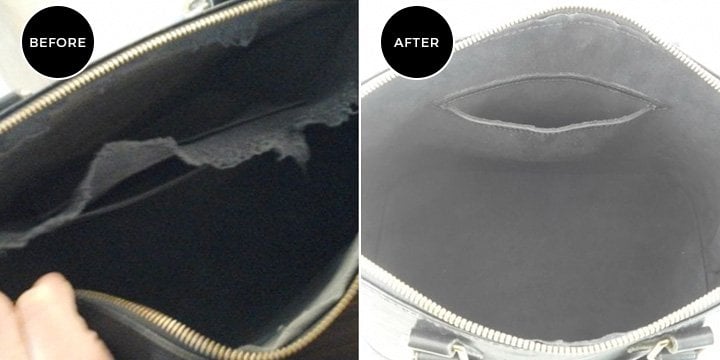 Split or Torn Pockets/Lining
Areas in linings that suffer a lot of stress can split or tear at the seam. When this happens was can tuck in the damaged fabric and re-stitch it back into place.

We use a sewing technique when we do this that allows us to make the repair without any of the stitching being visible - this makes for a seamless repair!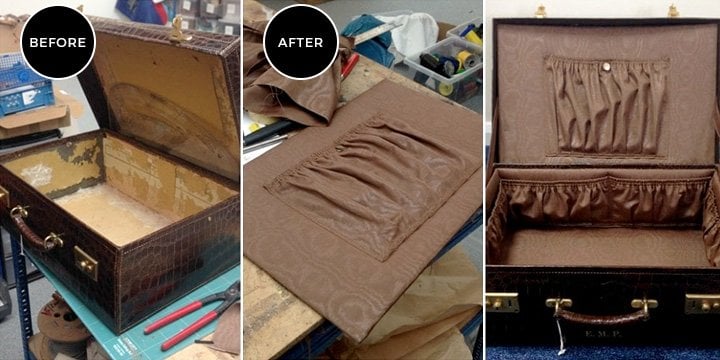 New Lining
If the lining is torn or split beyond repair we can completely re-make a new lining, using either leather or fabric to match the original.

We do this by unpicking the original lining and taking every piece apart. Using a template for each part we cut out new parts using the new leather/fabric. The new parts are then sewn together before the new lining is sewn back into the bag.
Why Choose Handbag Clinic To Re-stitch Your Handbag?
We are the longest established and leading handbag repairers in the UK working not only for consumers but for many of the worlds leading department stores and fashion designers;
Free Collection: We'll collect your bag(s) from you free of charge, quickly, hassle free and insured up to £500,000.
Stores: Want a more personal service? We have stores in Chelsea, Leeds and Newcastle.
Worldwide Name: We also have stores in Monaco, Qatar and Saudi Arabia.
Trusted by Brands: Recommended by Harrods and Harvey Nichols. You can also buy our products in their stores.
Tried & Tested: We repair over 600 handbags every month and and since launching have repaired over £20 million of bags.
Other Repair Services