Get your free quote within 24 business hours. Once received, all items are processed quickly, with over 20% selling within the first 7 days.
We offer convenient in-store drop offs or a free Next Day shipping label.
There are no hidden fees, earn up to 80% of the selling price and enjoy hassle-free payment.
We're proud to be the UK's first and only fully-circular service that can help you prolong the life of your items and provide maximum value.
We complete a thorough clean and carry out minor repairs to ensure your bag is in prime condition. This extra care enhances its appeal.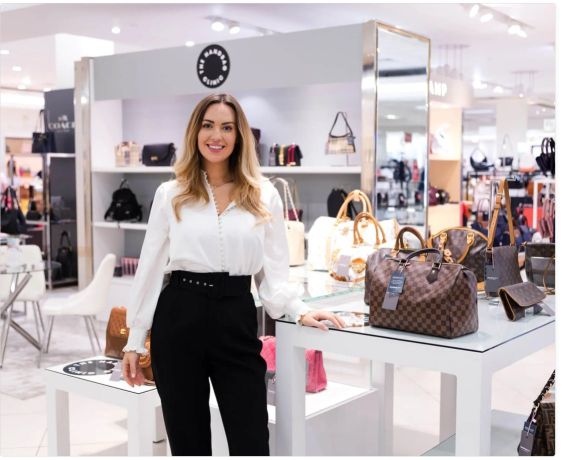 Complete our simple online quote form
Use the form for all items you would like to sell, choose the brand and upload your photos, it's quick and easy! Fill out the form here.
Send the item to us
Locate your nearest store for a convenient drop off or ship directly using the pre-paid label.
We authenticate
Our team of experts authenticate and conduct checks to ensure 100% authenticity. We clean every item, make minor repairs when necessary, professionally photograph and accurately price.
You get paid
There are various offers available depending on your item.
Frequently asked
questions for sellers
What is the best way to sell a Louis Vuitton bag?

With The Handbag Clinic, of course! We provide ourselves on being the UK's only one-stop service for buying, selling, restoring, and authenticating designer handbags. Plus, we believe that by expanding the lifespan of high-quality pieces, they can last a lifetime.

Along with Louis Vuitton, we buy and resell a wide range of designer handbags, including Hermes, Prada, and Dior, so if you have any other luxury bags in your collection that aren't getting as much wear and could be loved by somebody else, you call sell them with The Handbag Clinic. Find out more about selling us your handbags.

How much can you sell a Louis Vuitton bag for?

This depends on the LV bag you have and the condition it's in. Our expert buying team assess each handbag individually and will offer a fair price based on numerous factors including the size, age, and style. Where appropriate they will also consider the original RRP in relation to the current market value to present you with the best offering.

Does Louis Vuitton have a high resale value?

Louis Vuitton is one of the labels with the highest resale value in the luxury pre-loved market. As a brand with a rich history and iconic style, there are always buyers and handbag collectors willing to pay top prices for a pre-owned LV bag.

Which LV bags holds their value best?

One of Louis Vuitton's most iconic bags is the Neverfull which holds a significant percentage of its resale value while the popular Speedy bag isn't far behind.

When do I get paid after selling my Louis Vuitton?

You may be offered the choice of three payment options. These are:

Cash: Funds will be transferred into your bank account when we have authenticated and processed your handbag.

Voucher: If you're looking to buy a bag from us, by accepting a voucher you'll get 10% more. We'll credit your account, and you can then spend as if it were cash. Plus, vouchers don't expire.

Consignment: This option can earn you up to 80% of the selling price. When the bag sells and following a 10-day cooling off period for the buyer, we'll contact you and arrange for the money to be deposited into your bank account.
Loved my experience with Handbag Clinic. The only place I found the bag I fell in love with and they had it for an amazing price. The communication and delivery process was so stress free and meant I didn't worry about anything. The bag arrived in perfect condition and I'm in love with it. I'll definitely be using them again.

Ana C

Great Britain

Fantastic customer service, refunded me postage when they noticed I had ordered twice. Super fast delivery. Would 100% recommend

Jennifer Jordin

Great Britain

The handbag arrived on time & is absolutely gorgeous. I was apprehensive about buying a pre-owned bag but the lower prices won me over. The bag is even better than I expected, I have seen brand new ones with more scuff marks than this one. I am now looking for my next bag to buy.

JAK

Great Britain

Beautiful Bag and beautiful service! Super fast delivery! Have been telling all my friends about Handbag clinic and can't wait for my next purchase! Feels good to be buying sustainably as well!

Dammi Afolabi

Great Britain
You're in safe hands with The Handbag Clinic We understand that selling a designer handbag to third-party buyers can be stressful, especially when you're unsure of what your bag is worth - or worse, that you aren't dealing with a reputable seller.
At The Handbag Clinic, we've been buying and selling designer handbags since 2013, working alongside some of the world's leading luxury fashion houses, department stores and auction houses, including Christie's.
Our process is hassle-free and transparent. Plus, we pay more. Our in-house buying team will always ensure you are getting the best price for your item, taking into account the current market and the condition of your item.
And we also offer a personalised Concierge Service if you have a collection to sell,
find out more here
.