NEWCASTLE CONCESSION
December 23rd 9:00AM – 9:00PM
December 24th 8:00AM – 5:00PM
December 25th CLOSED
December 26th 9:00AM – 6:00PM
December 27th 9:00AM – 7:00PM
December 28th 9:00AM – 7:00PM
December 29th 9:00AM – 7:00PM
December 30th 9:00AM – 7:00PM
December 31st 9:00AM – 5:00PM
January 1st CLOSED
January 2nd 9:00AM – 7:00PM
January 3rd 9:00AM – 7:00PM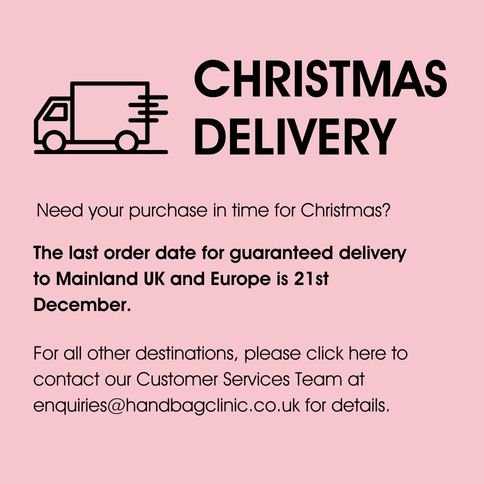 LEEDS STORE
December 23rd 9:00AM - 5:30PM
December 24th 9:00AM – 3:00PM
December 25th CLOSED
December 26th 10:00AM – 4:00PM
December 27th 10:00AM – 4:00PM
December 28th 10:00AM – 4:00PM
December 29th 10:00AM – 4:00PM
December 30th 10:00AM – 4:00PM
December 31st 9:00AM – 3:00PM
January 1st CLOSED
January 2nd CLOSED
January 3rd 9:00AM - 5:30PM
COLCHESTER CONCESSION
December 23rd 9:00AM – 7:00PM
December 24th 8:00AM – 5:00PM
December 25th CLOSED
December 26th 9:00AM – 6:00PM
December 27th 9:00AM – 6:00PM
December 28th 9:00AM – 6:00PM
December 29th 9:00AM – 6:00PM
December 30th 9:00AM – 6:00PM
December 31st 9:00AM – 5:00PM
January 1st CLOSED
January 2nd 9:00AM – 5:00PM
January 3rd 9:00AM – 5:30PM
HEADQUARTERS AND THE CLINIC
December 23rd – January 3rd CLOSED
Whilst HQ will be closed during the festive period, we will continue to process all Sell My Bag and Restoration Quote Requests. Don't restrict your shopping to store hours, bags will continue to be dispatched over the festive period so enjoy shopping online 24/7.
CHELSEA STORE
December 23rd – January 3rd CLOSED
MERRY CHRISTMAS FROM ALL OF US AT THE HANDBAG CLINIC!