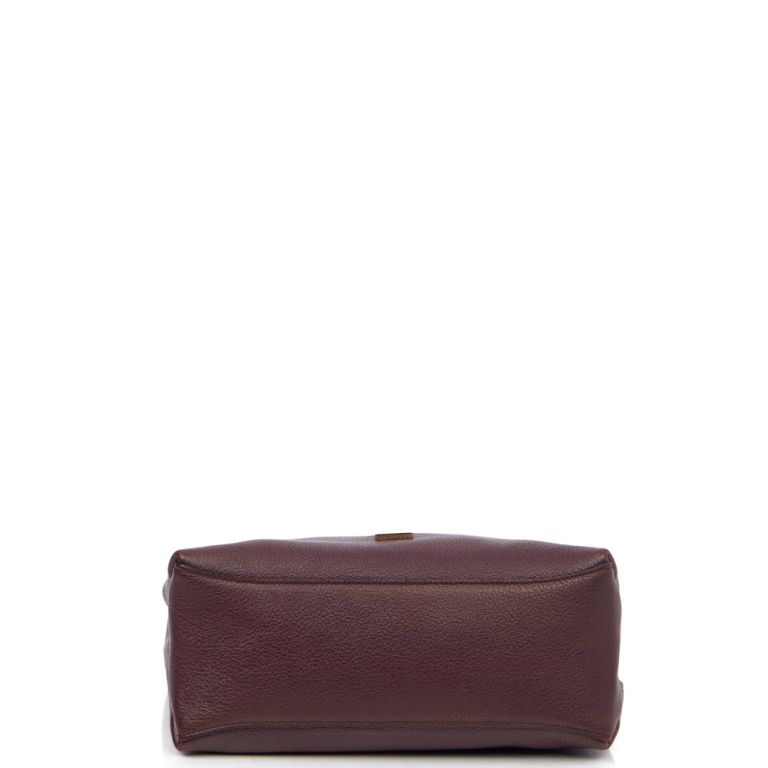 Mulberry
Freya - Small
Code: KBSR-MUL-FRE
√ 100% Authenticity Guaranteed
√ Next Day Delivery Available
√ FREE 28 Day Returns
SAVE ON YOUR FIRST PURCHASE
Use code:
WELCOME25
for £25 OFF £250+
Use code:
WELCOME75
for £75 OFF £1000+
£525.00
Width: 25.00cm
Height: 30.00cm
Depth: 12.00cm

Colour: Oxblood
Material: Calfskin Leather
Overall Condition: Very Good
Exterior Condition: Very Good
Interior Condition: Very Good
Hardware Condition: Very Good
Strap: Yes
This bag is located in our Online Exclusive Store.
For sale is a used Mulberry Freya - Small Handbag in a stunning shade of red.
This stylish handbag boasts a chic shoulder bag style, making it a versatile addition to any outfit.
Despite being pre-owned, this Mulberry Freya is in very good overall condition.
The hardware, including the metallic accents and zippers, remains remarkably well-maintained and exhibits a very good condition.
Open the bag to discover a spacious interior that has been meticulously maintained.
The interior is in very good condition, with no visible signs of wear or tear.
It offers ample room to keep all your essentials organized without compromising on style.
On the outside, this Mulberry Freya still looks fantastic.
The red exterior is vibrant and eye-catching, with no significant signs of wear.
It showcases the excellent craftsmanship that Mulberry is renowned for, providing you with a top-notch bag that will effortlessly elevate your look.
If you're in search of a high-quality, gently used handbag with a touch of sophistication, this Mulberry Freya is the perfect choice.
With its distinct red color, shoulder bag style, and excellent overall condition, it is an ideal accessory to enhance any ensemble.
Shop with confidence
As part of our Circle Back Guarantee, we will buy back any item purchased from us within the first 12 months at 70% of the original selling price. Terms and conditions apply. Find our more here circle back.
We started as a handbag restoration company, before buying and selling bags too. For our reputation as handbag restorers we would never sell an item below our standard and we use our restoration expertise to ensure every item we sell has been cleaned and deodorised before going on sale.
The bags we sell are listed under the following grades of quality:
Brand New: These bags have never been used and show no signs of wear.
Excellent: These bags have had minimal use and show no signs of wear.
Very Good: These bags will show very minor signs of wear.
Good: These bags will show small signs of slight damage and wear.
Fair: These bags are still in great condition but will show signs of use and some damage.
Delivery
*For guaranteed Christmas delivery, orders must be placed before 12 noon on the 20th of December. *
All items are sent out to you via our trusted partners UPS, the daily cut off point for all delivery services is 12 noon.
Our delivery options are:
Colelct in Store - Free
Standard (3-5 Working Days) - £5.00
Express (2 Working Days) - £7.95
Next Working Day (on orders placed before 12 noon Mon - Thurs) - £14.95
Premium Saturday Pre-12pm (on orders placed before 12 noon Friday) - £19.95
*In the rare occasion that additional verification checks are needed for your order, kindly allow an extra 24 hours for dispatch based on your chosen lead time
Returns
*Anything purchased as a Christmas gift from the 20/11/2023 can be returned for an exchange up until the 8th of January 2024. *
Standard Returns Policy: If purchased in store, you have 7 days to return the item for a full refund or exchange. For online purchases, you have 28 days to return the item for a full refund or exchange - please be aware that you must notify us within 14 days of receiving your parcel that you will be returning.

All item(s) must be unused, in the same condition as sold to you and include all original labels.

You can return free of charge to our Chelsea store, or you can use your local UPS Drop Off point (Mainland UK only).

We also offer a Home Collection Service within Mainland UK at a cost of £10 per return. Should you wish to this service, email us at enquiries@handbagclinic.co.uk.

If you are ready to make a return, complete our Online Return Form.

Customs
We understand that our fellow handbag appreciators live far and wide. In the instance your order is being shipped outside the U.K, it will be your responsibility to pay any custom charges where applicable.